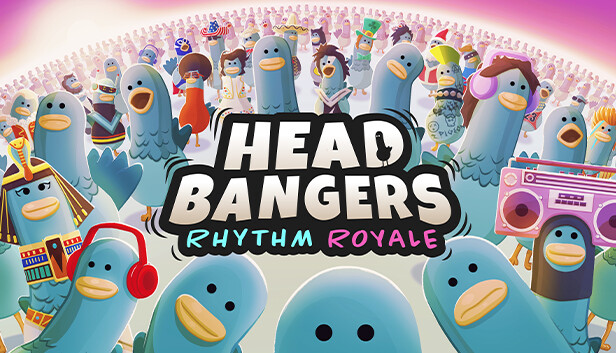 Headbangers Rhythm Royale: A Rhythm-Based Battle Royale for Music Lovers
Headbangers Rhythm Royale is a new rhythm-based battle royale game that is currently in development by Glee-Cheese and Team17 Digital. The game is scheduled to be released on Xbox Consoles via Xbox Game Pass, Nintendo Switch™, PlayStation®4, and PlayStation 5 on October 31, 2023.
A Closed Steam Tech Test for Headbangers Rhythm Royale will be held from September 4-11, 2023. The tech test will allow players to try out 11 of the 23 mini games that will be available at launch, as well as unlock 20 of the 40 free battle pass levels.
In Headbangers Rhythm Royale, players take control of a pigeon and compete against 29 other players in a series of musical mini games. The goal is to be the last pigeon standing. The mini games are based on popular music genres, such as rock, pop, and electronic dance music.
To win, players must have a good sense of rhythm and timing. They must also be able to quickly react to the changing patterns of the music. The game also features a variety of power-ups that can help players gain an advantage.
Headbangers Rhythm Royale is a fun and challenging game that is sure to appeal to music lovers of all ages. The Closed Steam Tech Test is a great opportunity to try out the game before it is released later this year.
Headbangers Rhythm Royale Key Features
Ruffle feathers: Memory, rhythm, reflexes, and reaction times will be put to the test across 23 minigames, each with their own unique musical twist
Preen away: With hundreds of unique items to choose from, including full outfits, hats, glasses, voices, and taunts, players can take the top spot and fluff their feathers with their very own personalised pigeon
Peck and earn breadcrumbs: Challenges and unlockable customisations await in the free in-game battle pass, with players able to spend their hard-earned crumbs to help them be the most stylish pigeon in the flock
Cross-flock support: Play with up to 29 other pigeons with crossplay enabled, friends and frenemies alike can battle in musical madness regardless their gaming platform of choice
Talon tapping music: With unique scores across each minigame, loading screen, and pigeon accessory menu, the party never stops with the bespoke scores written and created by the Glee-Cheese team.
About Author