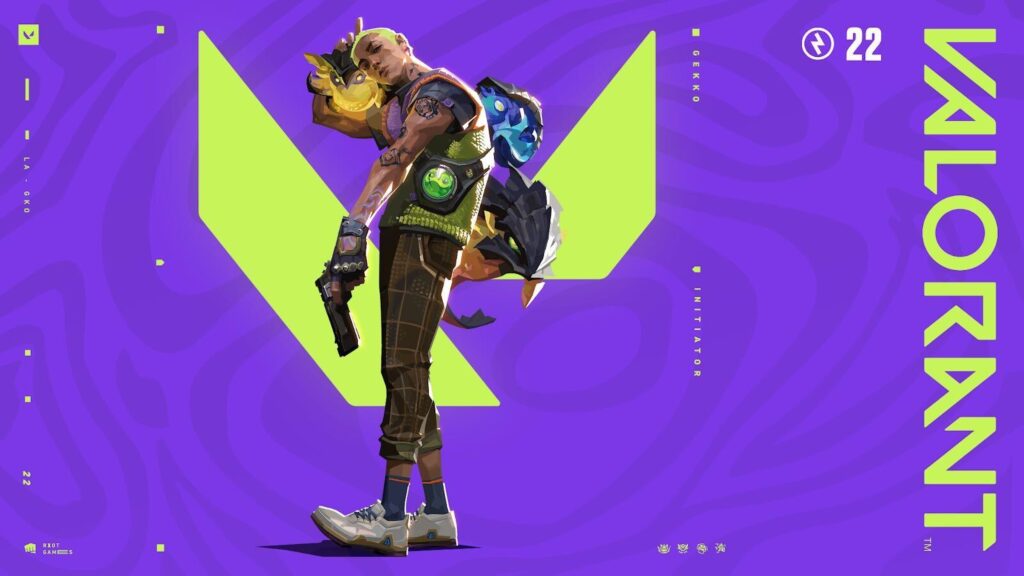 Gekko Jumps in as Valorant's Latest Agent.
The latest act of Valorant is upon us. The latest update also bring to it Valorant's 22nd Agent Gekko.
Gekko's Abilities
Wingman (Q) Basic Ability
EQUIP Wingman FIRE to send Wingman advancing in search of adversaries. While aiming at a spike location or a spike that has been planted, the wingman will launch a concussive blast at the first adversary he encounters using ALT FIRE. Gekko needs to have the Spike in his possession in order to plant. After a brief cooldown, when Wingman expires, he transforms back into a dormant globule INTERACT to recapture the globule and obtain another Wingman charge.
Mosh Pit (C) Basic Ability
EQUIP Mosh FIRE to throw Mosh underhanded or like a grenade. Immediately after landing, Mosh repeats itself over a sizable region before exploding.
Dizzy (E) Signature Ability
EQUIP Dizzy FIRE to launch Dizzy into the air and propel her forward. Once charging, Dizzy launches plasma bolts at any nearby opponents. Her plasma blinds foes who are struck by it. When Dizzy wears off, she transforms back into a dormant globule. After a brief cooldown, INTERACT to reclaim the globule and obtain another Dizzy charge.
Thrash (X) Ultimate
EQUIP Thrash FIRE to communicate with Thrash's mind and guide her through hostile territory ACTIVATE to leap ahead and explode, trapping any hostiles nearby. As Thrash wears off, she transforms back into a dormant globule. After a brief cooldown, INTERACT to regain the globule and receive another Thrash charge. You can recover trash once.
Who is Gekko?
Well, according to Valorant Lore, Gekko was born and raised in Los Angeles, California, and is the 22nd recruit for VALORANT. He is the owner of a group of four odd creatures called Dizzy, Mosh, Thrash, and Wingman, which can change between animalistic shapes and a globule state. These creatures, which can be kept in a little container Gekko wears as a sash, are prepared to be called upon and take shape at a moment's notice to aid Gekko.
How does he affect the current Meta?
Given that it has been a while since there has been a new duelist in the game, Gekko is an Initiator-type Agent, which comes as a bit of a surprise. If you recall, Fade was the most recent initiator to join Valorant, and she came before Harbor, the second-newest Agent. We now have a new initiator, though it appears that Riot Games isn't necessarily interested in evenly distributing the many sorts of Agents that are brought to the game.
This will bring the number of initiators to 6. How will he affect the current meta? It is still to early to tell. Where he lands in the Agent rankings is still up in the air. We will be still looking on how he affects ranking and pro play. We will be releasing our take on the Agent rankings for the latest Act of Valorant.
About Author