The Philippines' next Dota 2 Powerhouse is here.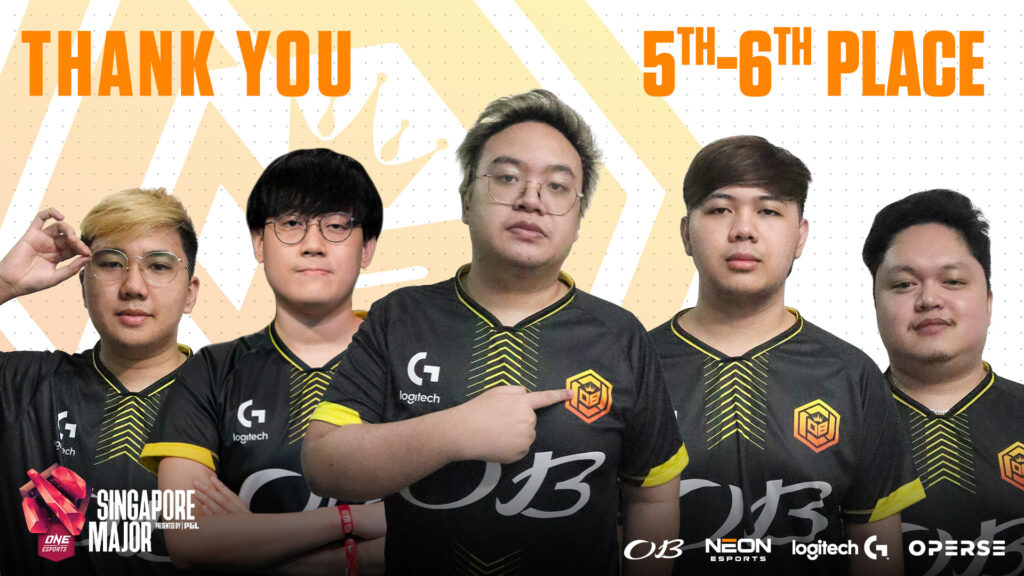 OB.Neon Esports finished 5th-6th Place at ONE Esports Singapore Major. Taking home ₱1.2 Million.
The Filipino squad OB.Neon Esports had an impressive run in the ONE Esports Singapore Major. Despite the team encountering obstacles even before the tournament had begun.


OB.Neon announced on March 21, six days before the Major, John Anthony 'Natsumi-' Vargas is "unfit to travel" and wouldn't be joining OB.Neon in representing the Philippines at the Singapore Major. Although, Rafael 'Rapy' Palo replaced 'Natsumi' as a stand-in for the Singapore Major. 
Shortly before the second day of the ONE Esports Singapore Major Group Stage. OB.Neon once again announced a roster change in their line-up. Yang 'Deth' Wu Heng will be replacing Rafael 'Rapy' Palo as a substitute. OB.Neon stated that Rafael 'Rapy' Palo had close contact with a COVID-19 case.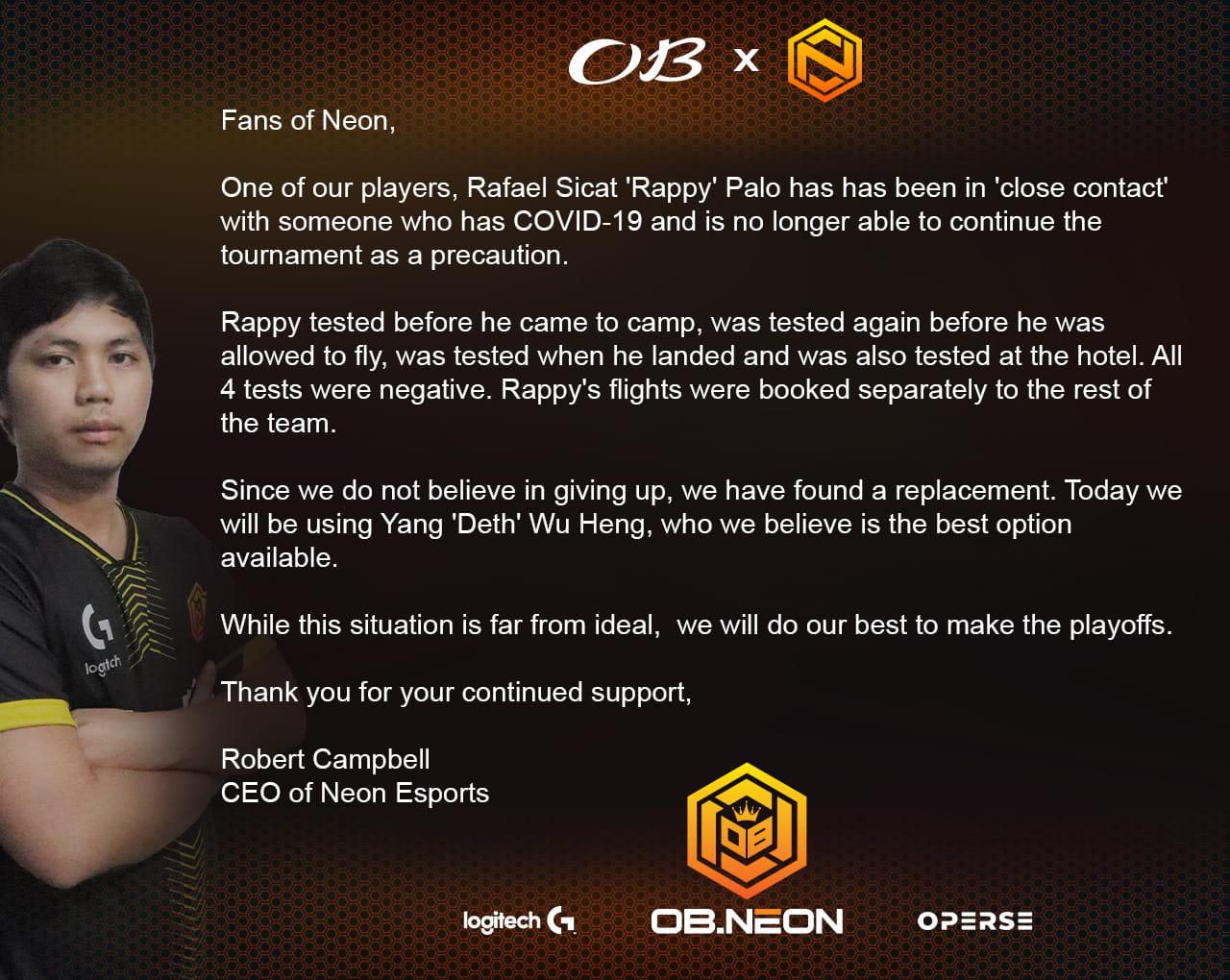 According to CEO Campbell, "Rappy tested before he came to camp, was tested again before he was allowed to fly, was tested he landed and was also tested at the hotel. All four tests were negative. Rappy's flights were booked separately to the rest of the team,"

Despite the unfavorable circumstances, OB.Neon Esports finished mighty alongside Thunder Predator at 5th-6th Place. OB.Neon brought home $25,000 (equivalent to 1.2 Million Pesos). They also received 300 Dota Pro Circuit (DPC) points from the tournament.
OB.Neon Esports opens new heights for the Philippines' DOTA 2 scene.
In the first game of the lower bracket in the playoffs, they fought (#23) Fnatic and against two compatriots, DJ and Raven. They secured a 2-1 win and then advanced to the lower bracket.
After defeating Fnatic in the lower bracket, OB.Neon performed a dominating 2-1 series win against (#8) Vici Gaming, which led them further in the bracket.
Versus the #1 Team in the World.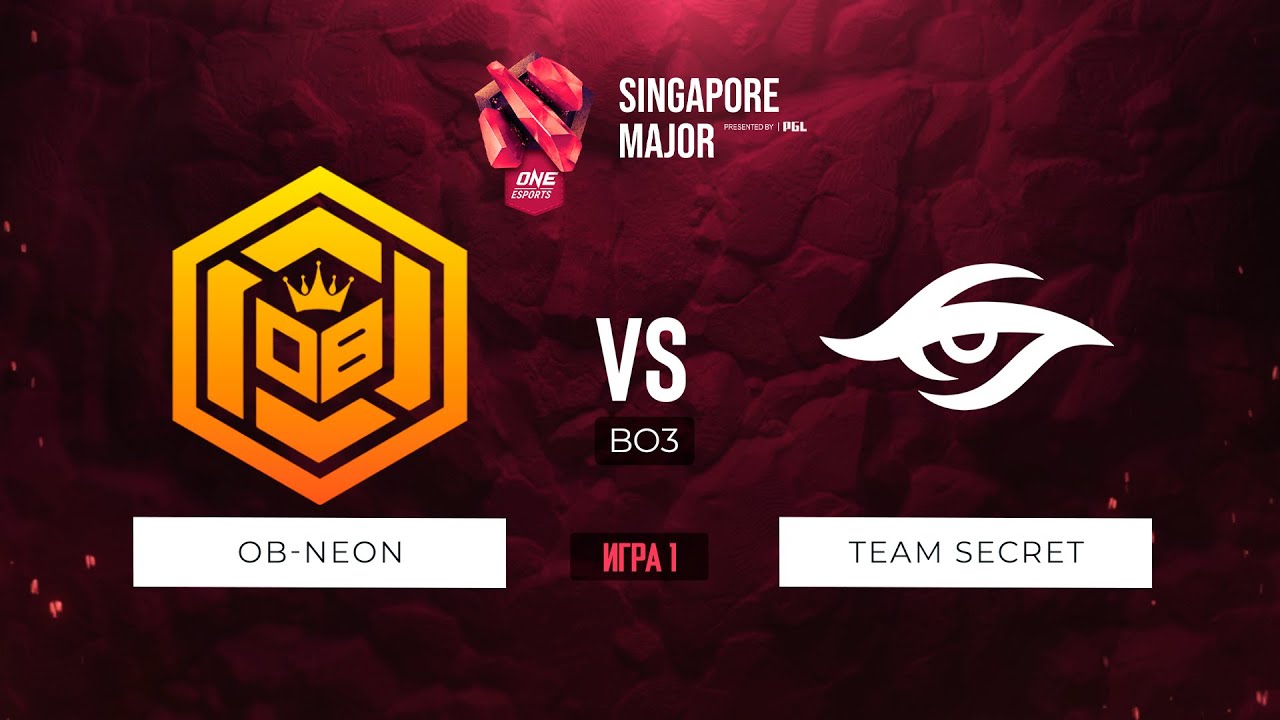 In their final series, OB.Neon toppled down as they battled against the favorites and #1 Team in the world Team Secret. Losing the bracket to a close 1-2 series.

Team Secret deliberately took Game 1 from OB.Neon's hands with Lasse "MATUMBAMAN" Urpalainen's God-like Bristleback as a result of their defeat.

In the second game, OB.Neon took control of the game. Prieme "PlayHard" Banquil's Tusk supporting Gabriel "debil_2000" Ong (known as skem) Gryrocopter and Erin "Yopaj" Ferrer's Batrider to get back into their feet as they fall early into their laning phase.

On to the nail-biting third game,  Lasse "MATUMBAMAN" Urpalainen's Troll Warlord was just too much for them to handle. Yopaj's Windrunner "Beyond-Godlike" play was not enough to close down the 60-minute close game, costing them to fall out of the bracket and sent home by Team Secret.

OB.Neon displayed new heights for the Philippine DOTA 2 scene to the rest of the world. One Esports featured Yopaj to be one of the "Major Rookies" to watch out for. Gosugamers ranks OB.Neon as #14 in the world and #1 in SEA/Oceania region. While DLTV ranks them #8 in the world.

OB.Neon's performance was remarkable. They were able to achieve a feat and we anticipate OB.Neon's continuous momentum in upcoming tournaments.

We assume to see furthermore from OB.Neon after such an amazing feat at ONE Esports Singapore Major.  
Watch out for OB.Neon Esports at their next event at Asia Pacific Predator League 2020/21 – APAC starting April 6 to April 11.
About Author