Asia Pacific Predator League 2020/21 | Day 1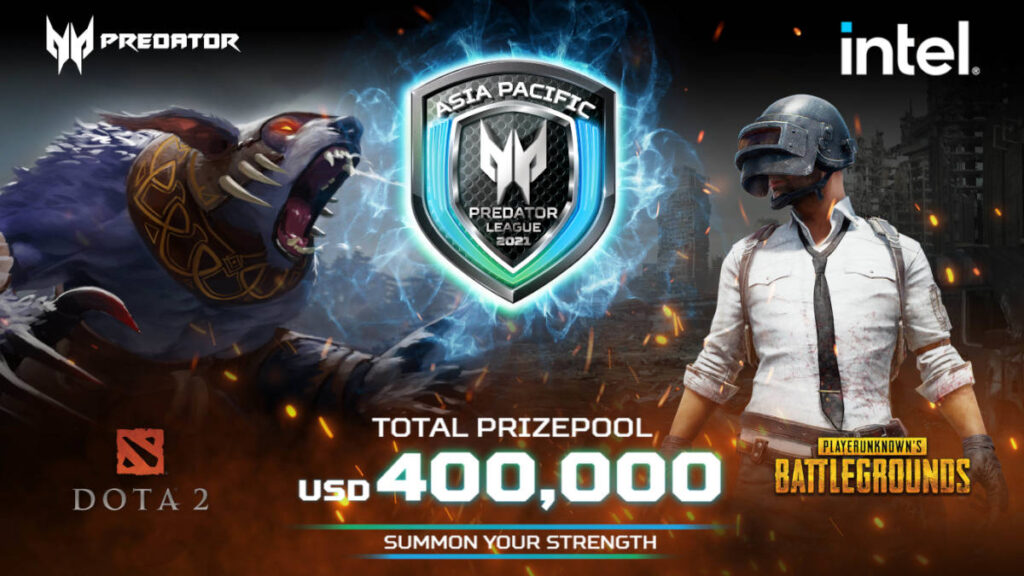 Asia Pacific Predator League 2020/21 | Day 1 Results: Winners, Losers, and Highlights.
Round 1 – TNC Predator vs Galaxy Racer Esports

The tournament started with TNC Predator's debut roster. Their newly added Jun 'Bok' Kanehara (Position 3) and Marvin 'Boomy' Rushton (Position 5) fought Galaxy Racer Esports in the first round of the Best of 1.
GXR started strong with Mercale's IO taking the First Blood from Tims' Phoneix at the 4-minute mark. Following the 2-man engagement at the top lane, kYxY's Nature Prophet and Poloson's Earth Spirit dove into Gabbi's Medusa and Boomy's Clockwork tower taking them both down.
Within the 10-minute mark, TNC took GXR to a beating. With the 3-man Ultis from Bok's Mars and Tims' Phoenix dealing heavy damage, they managed to chase the lead, winning the first clash in the mid lane.
TNC resumed the momentum and kept converting the crucial team fights. As they continue to pick off GXR one by one and beat them to the lower bracket. Gabbi's Medusa and Armel's "Beyond-Godlike" Leshrac leads TNC further on to the bracket with a 20k Gold lead and winning a 31-15 kill lead.
Result: TNC Predator wins (31-15) @ 29:05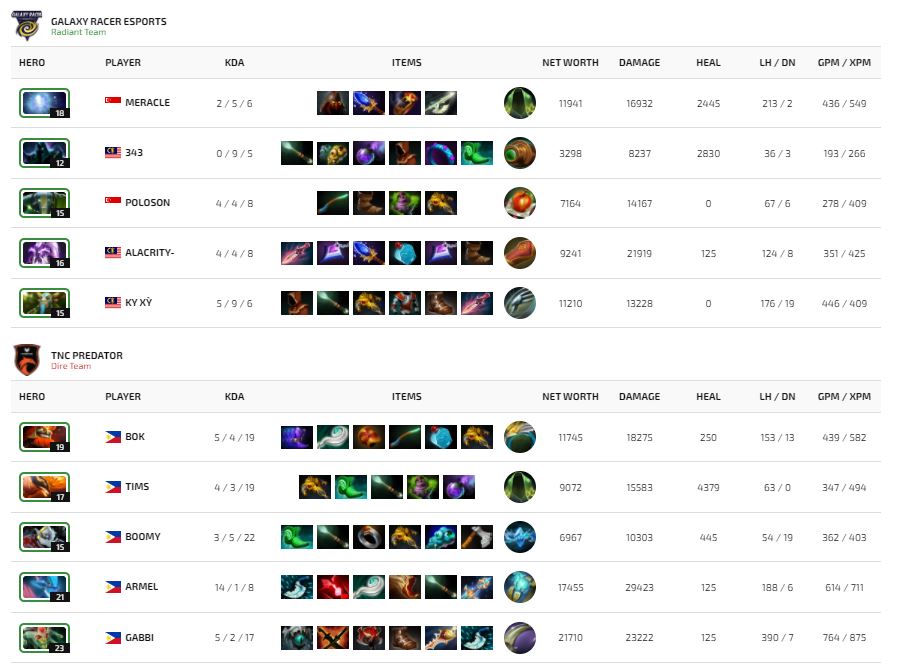 Quarterfinals Game 1 – OB.Neon Esports vs TEAM SOOS

The Philippines' next Powerhouse and 5th-6th ONE Esports Singapore Major placer; OB.Neon Esports took on Team SOOS in the first Quarterfinals Game.
The game started with an immediate 3-man fight from OB.Neon. Jaunuel's Lion taking the First blood against dunjango's Monkey King. OB.Neon got the early game control with a lead of 5-1 at the 4-minute mark.
Following on, Team SOOS  was able to capitalize with OB.Neon's failed 2v2 engagement at the mid lane. Jonch's Pangloier then assists Sequinox's Death Prophet and vv's Crystal Maiden fortunately getting 2 kills for their team.
OB.Neon then held the lead after taking a three for two trade from Team SOOS in a 4v4 clash. Scoring a huge 16-6 advantage against Team SOOS. The late-game went poorly for Team SOOS after being plucked off one by one. OB.Neon took advantage of Team SOOS' inexperience and continued to plummet them down. 
Another phenomenal performance from all players OB.Neon that led them to the next bracket. Ending the game in 26 minutes and sending Team SOOS to the lower bracket.
Result: OB.Neon Esports wins (48-12) @ 26:26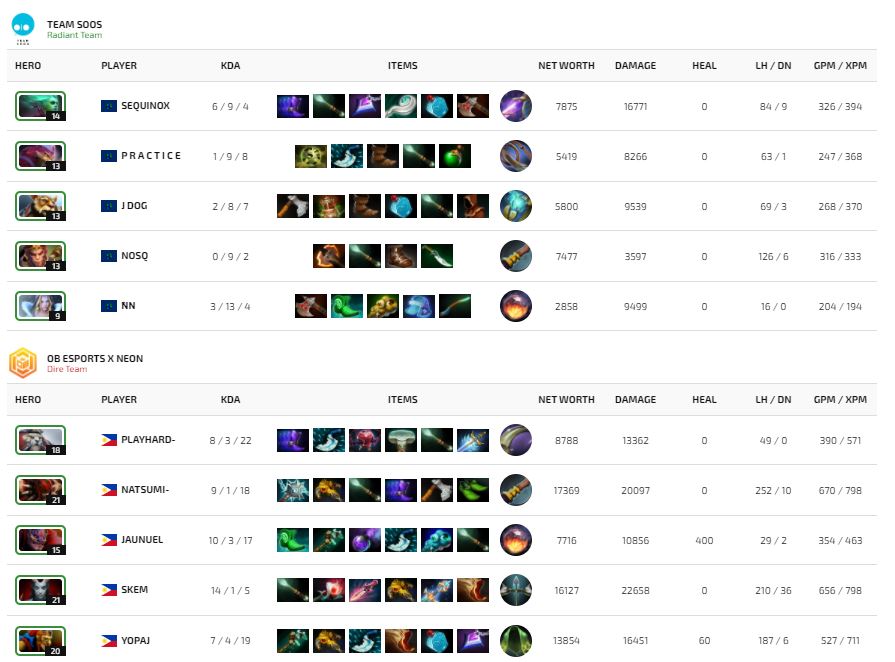 Round 2 – 496 Gaming vs Reckoning Esports

A 2v2 at the bottom lane ignited the game with DatBb's Death Prophet getting the First blood. Immediately then followed by JG getting the return kill on the Death Prophet.
This was followed by an early 3v3 clash at the top rune with Ken's Puck pwning Htz's Void Spirit. Then, an amazing life-saving play from Ken that prevented a trade kill for 496 Gaming. 
Further on, 496 Gaming was able to get retaliate after forcing a clash from Reckoning Esports. 496 Gaming was able to punish them with 2 kills then was able to close the gap. 
At the 17-minute mark of the match, 496 Gaming took advantage after getting a free Roshan. They attempted to force a clash but only ended awkwardly ending up only with two kills.
Reckoning Esports continued to waste clashes due to Teehee's awkward Phoenix Supernova. The misplays after misplays prevented them from the opportunity to fight back. 496 Gaming proceeded to initiate and take advantage of each Reckoning's misplays, stripping them apart to pieces. They then tapped out the game, yielding the victory over 496 Gaming.
Reckoning Esports will then be facing Team SOOS in the lower bracket.
Result: 496 Gaming wins (29-17) @ 29:56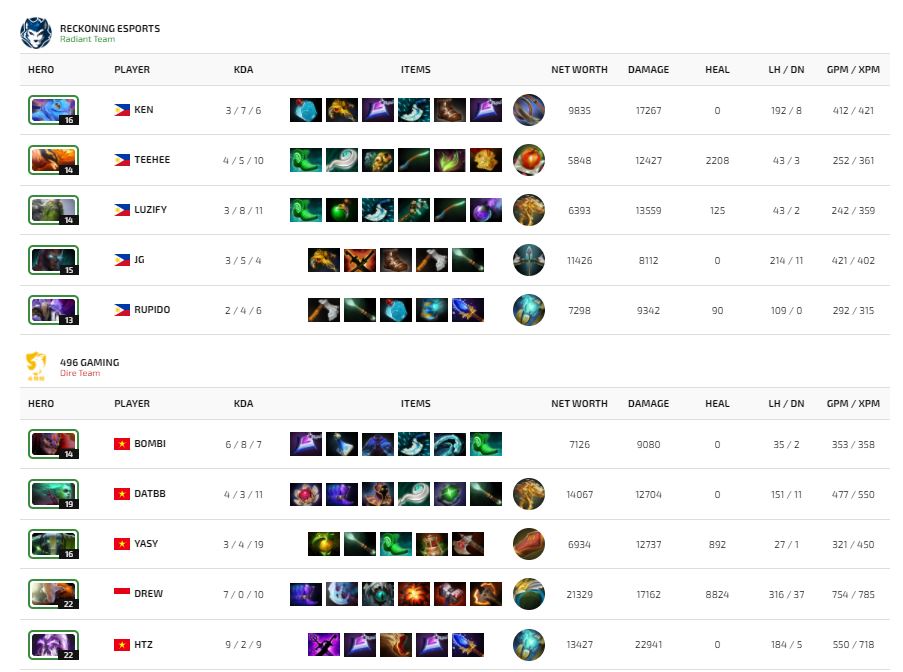 Quarterfinals Game 2 – Team Star vs BOOM Esports

Team Star's ddz picked out an interesting Tiny mid against Mikoto's Storm Spirit. However, they weren't able to showcase their assumed results against BOOM Esports.
The match began with Fbz's Pangolier taking the first blood against Mozun's Abbadon. Mozun got his vengeance after killing Hyde at the bottom rune. Meanwhile, Mikoto's Storm Spirit took Barry's Shadow Shaman down at the opposite side of the map.
The game did not go well for Team Star as BOOM Esports' synergy was just on spot. Their teamwork was just on a different dimension in contrast to Team Star's
Team Star also had their shining moments. They were able to take on three members of BOOM in a 5v3 clash. They took down Hyde, Khezcute, and Dreamocel ending his kill Dominating kill streak on Razor. Although, they didn't shine any further.
BOOM Esports outshined Team Star, dimming their lights down. As Mikoto and Dreamocel were just too much for them to take on. BOOM Esports looks promising and we expect much more further from them. They now move forward to the semi-finals bracket.
Team Star will face Galaxy Racer Esports in the lower bracket.
Result: BOOM Esports wins (36-10) @ 32:47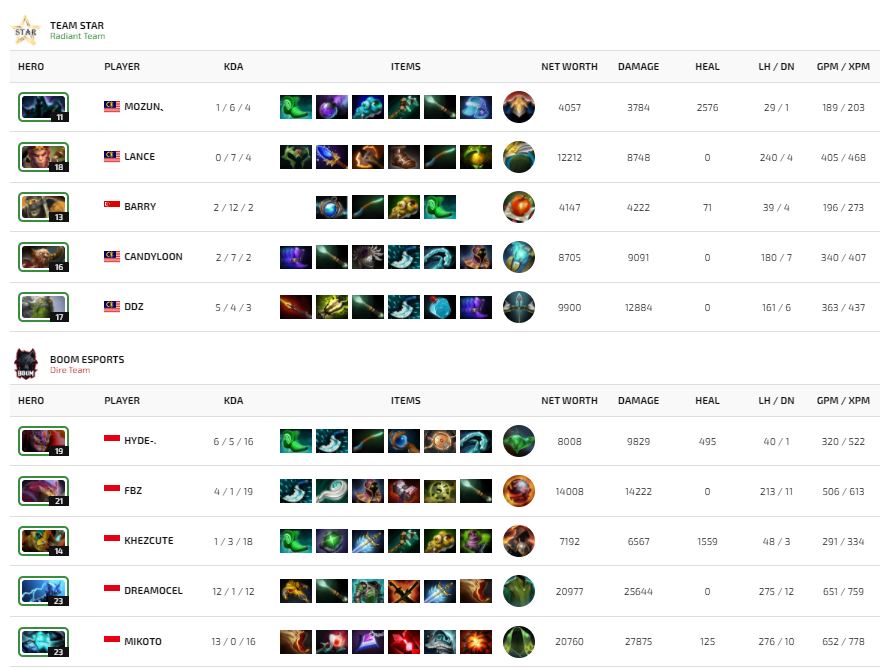 We are certainly excited for Day 2 of Asia Pacific Predator League 2020/21. It will be played on April 7, Wednesday. Stay tuned for more updates!