ROG Launches All-New 2023 Flow Lineup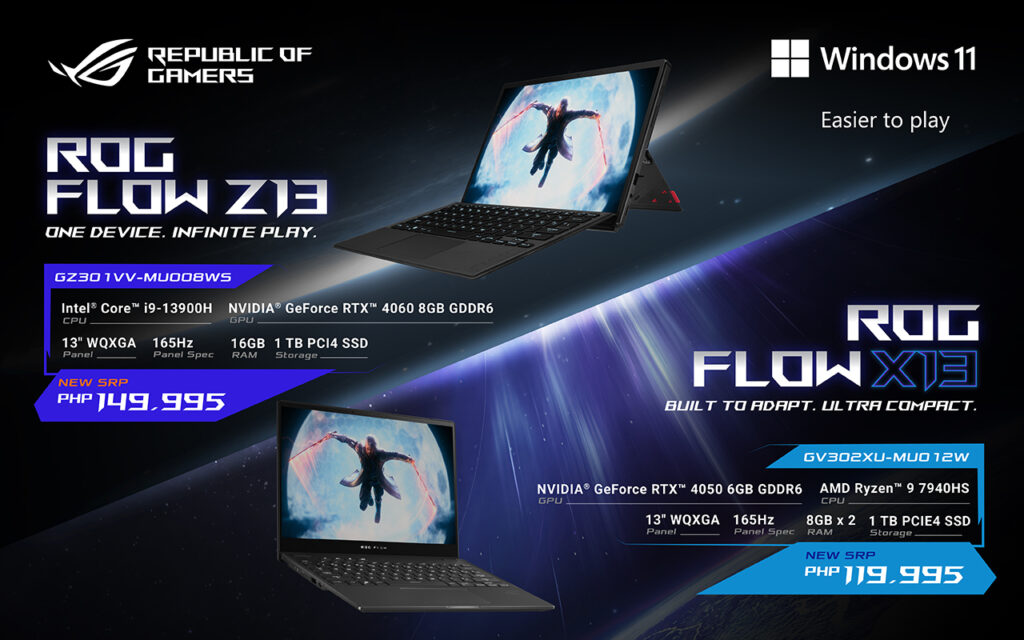 ROG Launches All-New 2023 Flow Lineup.
The brand-new 2023 Flow laptop collection is proudly presented by ASUS Republic of Gamers (ROG). First-ever 13-inch Nebula Display, revamped chassis, and improved internals are all included in the Flow X13. The venerable Flow Z13 also features a new 13-inch Nebula Display and innovative silicon that raises the bar for tablet gaming.
Fast, Fluid, and Flexible Flow X13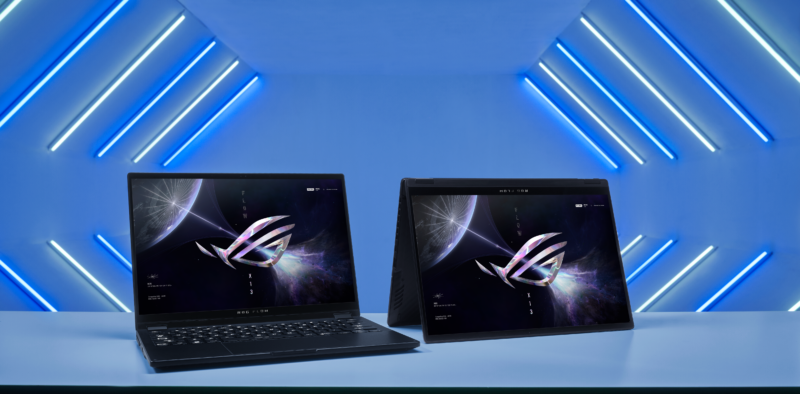 The ROG Flow X13, the first member of the Flow family, will be among the first devices to come with a 13-inch Nebula Display in 2023. Thanks to its excellent pixel density and vibrant colors, this QHD 165 Hz, 16:10 aspect-ratio screen creates an incredibly immersive gaming experience. The Flow X13 is a genuine gaming beast with horsepower that belies its diminutive size, powered by an AMD RyzenTM 9 processor and up to an NVIDIA GeForce RTX 4050 Laptop GPU. In spite of having improved hardware, maintaining its 15-inch keyboard layout, and even expanding the touchpad by 56%, the 2023 ROG Flow X13 is 10 mm smaller than the 2022 model. The battery was enlarged to 75 Wh to provide extra power on the go. When gamers do need to recharge, the 2023 Flow X13 also supports up to 130 W charging with its compact and lightweight USB-C® adaptor.
Additionally, the exterior was updated, and the aluminum lid now features a distinctive new wave pattern. The waves on the lid are now increasingly thicker, evoking the "gravity wave" design inspiration of the Flow series while also adding a roughness that improves grip for simple carrying. The glass itself has been updated and now boasts the brand-new Corning® Gorilla® Glass DXC covering, so it's not just the display that has been upgraded. This coating not only considerably decreases glare but also increases surface hardness by 40% to further safeguard the glass from nicks and scratches during normal use.
AVAILABILITY & PRICING
The ROG Flow X13 will be available in the Philippines this April 2023:

Flow Z13 debuts with new Nebula Display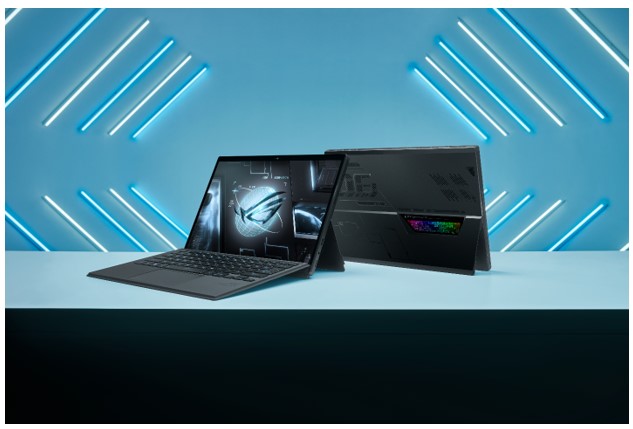 The ROG Flow Z13, the most potent gaming tablet/laptop in the world, will be back in 2023 to show its dominance with updated parts and a brand-new 13-inch Nebula Display. With 100% DCI-P3 color space coverage, this QHD 165 Hz, 16:10 aspect ratio panel has the same remarkable pixel density and vibrant colors as the Flow X13 and is shielded against nicks and scratches to the touchscreen by Gorilla Glass DXC. A MUX Switch with NVIDIA Advanced Optimus intelligently assures optimal frame rates when plugged in, and greater battery life when untethered, without the need for manual intervention, on the Flow Z13, which is powered by up to an Intel Core i9-13900H and NVIDIA GeForce RTX 4060 Laptop GPU. The Flow Z13 is a terrific partner for artists thanks to native stylus compatibility, and applications like NVIDIA Canvas use AI to speed up their creative workflow. The Z13 comes with access to Xbox Game Pass Ultimate, which grants users access to an ever-expanding library of AAA and independent games. The Flow Z13 is the ideal travel companion for gamers and creative who are constantly on the move.
The Flow Z13 is still extraordinarily thin and light—it is only 12 mm thick and weighs 1.1 kg—despite all these upgrades. The Z13 is the ultimate lightweight and portable travel companion because it comes with a keyboard that also serves as a screen cover. Thanks to a unique vapor chamber and Thermal Grizzly liquid metal thermal compound on the CPU and GPU, the Z13 maintains a deceptively silent operation despite its little size. The Z13 is the ideal device for every situation thanks to its 170° kickstand, which can be used as a tablet, controller gaming system, or, when combined with a ROG XG Mobile external GPU, a full-fledged battle station for gamers. Gamers can capture every moment with a built-in 13 MP front-facing camera and 3DNR 5 MP webcam.
AVAILABILITY & PRICING
The ROG Flow Z13 will be available in the Philippines this April 2023:

Head on over to your nearest ASUS and ROG Concept stores to get your next ROG Flow Gaming Laptop. For the complete list of stores: https://asus.me/ASUSPHWhereToBuyLaptopsAndDesktops
For more information on the latest ROG Flow X13 and the ROG Flow Z13 can be found on the following links:
ROG Flow X13 – https://ph.rog.gg/2023FlowX13
ROG Flow Z13 – https://ph.rog.gg/2023FlowZ13
About Author