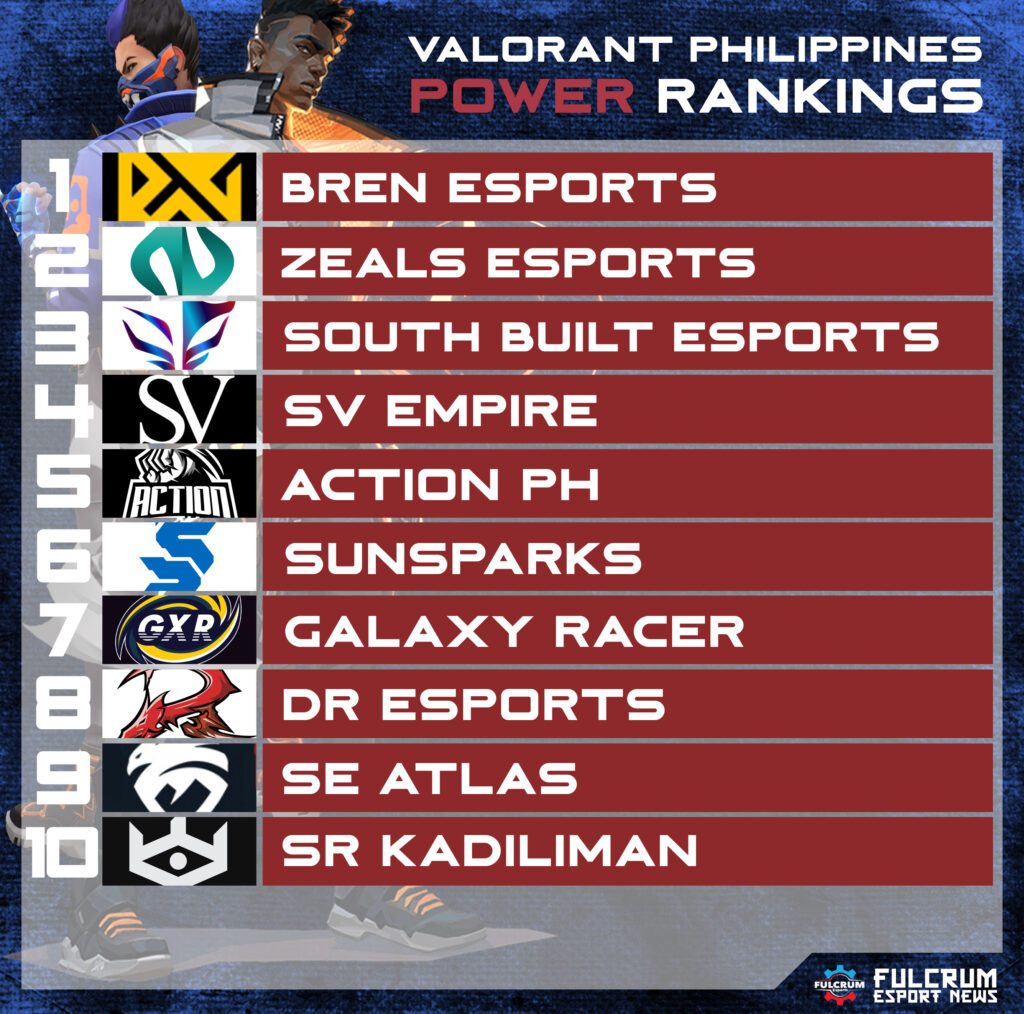 Philippine Valorant Power Rankings
It has been a while since we released our last power rankings. We understand that there will be different opinions regarding the matter. But alas love it or hate it's here are our power ranking for July.
1. Bren Esports
Still the reigning titans of the local Valorant scene. The team has yet to lose a tournament they joined locally and in my book that is dominance. Bren Esports remains number 1.
2. Zeal Esports
The team formerly know as 6045 pirates, is a team now playing a notch lower than Bren. They have shown flashes of what they can become. Zeal Esports after all qualified to the regional tournament which not an easy feat. They remain at number 2.
3. South Build Esports
The new team, a name not familiar to the casual fan, but the team is made up of Veterans. These veterans already represented the country in other FPS games. They finally formed up and has qualified to VCT Stage 3.
4. SV Empire
A team that carries an established name. They have retooled their roster adding players from other teams while other members moved on. They slowly showed their cohesion. The expectations are high, they after all was the first team to bear Bren in Haven.
5. Action PH
Another team that has been around for a while. Action PH has been playing top tier local tournaments and wins a fair amount. Obviously talented and qualifying for VCT stage 3 has been proof of the talent.
6. SunSparks 
Narrowly missing VCT Stage 2 qualification, But make no mistake SunSparks is a very capable team. I am pretty sure that they will make it to the VCT dance and compete with the top teams.
7. Galaxy Racers
A team that is always challenging the top dogs. Did they loose a step, NO, the other teams just caught up with them and showed a sliver of improvement over them. Still a dangerous team in my book. Given the right timing, they might actually win the VCT stage 3.
8. DR Esports
DR Esports has been climbing up the rankings and racking up wins in different local Valorant tournaments. They are just peaking at the right time. Qualification to VCCT Stage 3 playoffs is again proof of that.
9. SE Atlas
SE Atlas as a team had recently been thru controversy. That did not deter them showing us their mettle and Also qualifying to VCT Stage 3. will they peak at the right time and give us a deep run in the playoffs? Let's watch and see.
10. SR Kadiliman
One of the most popular teams in the country. But SR Kadiliman's return to the VCT Stage 3 playoffs is a testament to the team's resilience and skill.
The Philippine Valorant Power Rankings is based our data base of tournament performances and their wins over each other. Again this is our ranking, if you agree or disagree that is fine as long as you can provide justification to your rankings.