Amihan Esports gets hit by Riot's Ban Hammer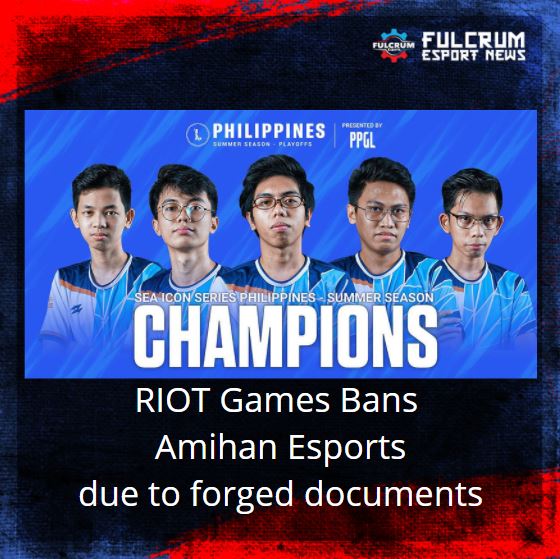 Amihan Esports gets hit by Riot's Ban Hammer.
After winning the SEA – ICON Series summer cup, Amihan Esports gets hit with a ban from Riot Games. This will be another black mark in the history of Philippine esports. The incident revolves around Karl Ken "AMI Karlll" Bautista.
In a judgement issued earlier today by Riot games. Former team manager Christian Villegas, and Amihan Esports owner Francis Mariano were all given suspensions. The suspensions were brought about by the inaccurate documentation provided by the team.
The investigation, was first reported to Riot during the SEA Icon Series Philippines, they found that Bautista's documents to compete has his age forged. The forged aged allowed him to compete in the local and regional Wild Rift tournament.
It is clearly stated Rule 2.3 (Age) of the Wild Rift SEA Icon Series Philippines Competition Policy states that "No player shall be considered eligible to participate in any Icon Series-affiliated match before their 17th birthday, defined as having lived 17 full years."
Bautista was 16 during the registration. The investigation also yielded that the team had full knowledge of his age at the time.
"Maintaining the competitive integrity of all our esports tournaments as well as the safety and well-being of pro teams are Riot's top priorities, and we take such violations extremely seriously. All our participating teams are expected to abide by the rules of fair play, agreed upon prior to participation in the tournaments. Violations of the rules of fair play will not be tolerated," is the statement Riot Games Southeast Asia Esports released during the ruling.
The brunt of the punishment was felt by the team owner. Francis Mariano will be banned indefinitely from all Riot Events. The ruling can however be appealed after two years.
All of the prizes and title of the team was stripped. The slot in the regional tournament will be vacated an another qualifier tournament will be done.
This is really adding to the already unfavorable image that the Philippines have in the regional esports scene.