ROG PHILIPPINES TO LAUNCH THE NEWEST AMD RYZEN™ LAPTOPS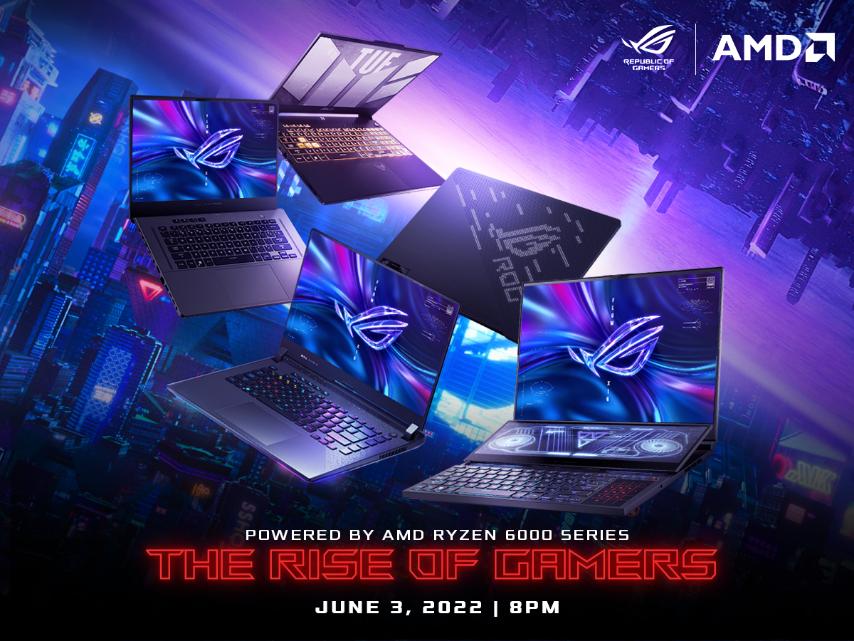 ROG PHILIPPINES TO LAUNCH THE NEWEST AMD RYZEN™ LAPTOPS
Mark your calendars as ROG Philippines is set to release the most powerful iteration of the much-awaited ROG Zephyrus G14 powered by the latest AMD Ryzen™ 6000 Series Processors
At the Rise of Gamers Digital Launch Event on June 3, 2022, 8pm on the ASUS Republic of Gamers Philippines Facebook Page, ASUS Republic of Gamers (ROG) Philippines will introduce the newest and greatest gaming notebooks powered by the latest AMD RyzenTM 6000 series CPUs.
ROG REMBRANDT LINEUP SET TO RISE
The award-winning ROG Zephyrus G14 2022 is finally poised to make its Philippine debut, and is expected to be one of the highlights of the launch. Along with its much-improved performance, the new edition of the elegant, powerful, yet compact gaming laptop will feature an enhanced ROG Nebula Display and the new and improved AniMe Matrix LED.
Not to be outdone, the bigger brother, the improved ROG Zephyrus G15, will also be available at launch. One of last year's most popular gaming laptops is ready to reign supreme once more.
The ROG Zephyrus Duo 16 with all-new ROG Nebula HDR display technology and zero bounds with powerful specs and two monitors for intense gaming and multitasking will be another highlight of the launch.
New versions for AMDTM Ryzen 6000 series laptops are already available on the market, including the esports battle station ROG Strix G15 and G17, as well as the crowd-favorite TUF Gaming A15 and A17.
ROG HEROES SET TO JOIN THE RISE OF GAMERS
Special guests ROG Heroine Dexie Diaz, Coleen of CansTV, and Streamer Patricia Reyes will host the digital premiere. These three femme fatales will demonstrate how these new gaming laptops can help you up your game in elegance.
Another achievement that ROG is proud of is the ROG Rise of Gamers Digital Launch Event. Citizens of the Republic can win unique ROG gear merely by watching the Digital Launch on the ASUS Republic of Gamers Philippines Facebook Page on June 3, 2022 at 8pm to share the excitement with ROG lovers.
For more information and to be reminded of this event, RSVP as GOING at the event page here: https://ph.rog.gg/RiseOfGamers2022 as well as like and follow the official ROG social media pages to get latest updates the upcoming launch as well as other ROG products and events:
About Author