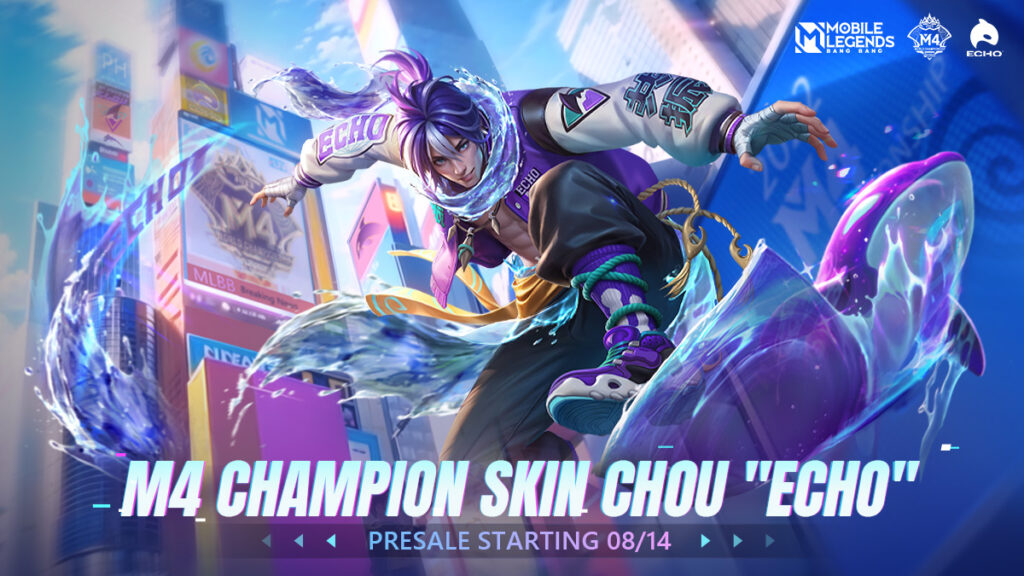 M4 Champion Skin Chou: A Symbol of ECHO's Strength
MOONTON Games and M4 World Champions ECHO have unveiled the M4 Champion Skin Chou, a new skin that symbolizes the team's strength and dominance in the world of Mobile Legends: Bang Bang (MLBB) esports.
The skin features Chou donning the team's iconic jersey and riding a wave with their iconic purple orca. Orcas are apex predators, which represent ECHO as the top contender in the MLBB world. They also hunt in packs, which accurately describes the team's winning playstyle and strategy.
"We are grateful to MOONTON Games for working closely with us," said Mitch Liwanag, ECHO Country Manager. "We enjoyed the process of creating this with them, and the final output definitely represents our vision as a team. We hope our fans, the orcas support us and get their own M4 Champion skin."
"The skin design is great and extraordinary," said ECHO superstar roamer Tristan "Yawi" Cabrera. "It's really something that we like. Even the ECHO jacket I said I wanted to be included is seen. We had fun designing this skin and we hope our fans like it."
Chou will be the very first fighter hero to have a customized skin designed by an M World Champion. To give back to the MLBB community, MOONTON Games will launch a series of in-game activities to provide them with discounts when they purchase the skin starting from August 14 to 20.
The skin officially launches on August 21. ECHO will go live on their official Facebook page to play MLBB, showcase the skin's in-game effects, interact with fans, and give away prizes.
This new skin is a must-have for any ECHO fan or anyone who appreciates great mobile esports design. It is a symbol of ECHO's strength and dominance, and it is sure to turn heads in the MLBB scene.
#EChouLoud
About Author